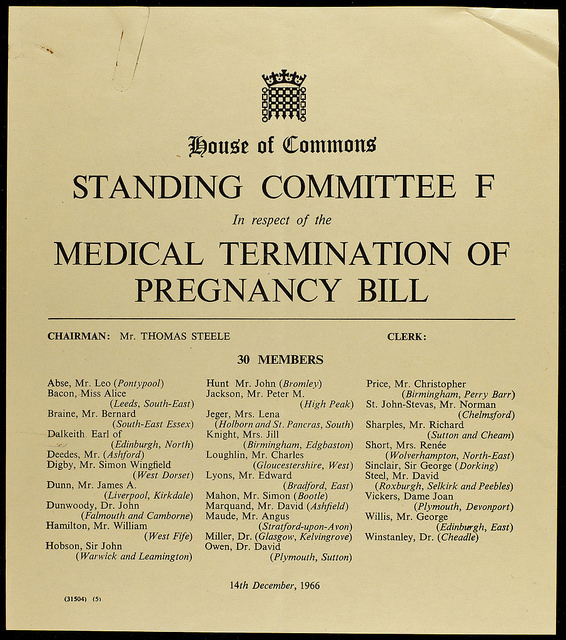 I once knew a woman who had a backstreet abortion and died: a married woman, already the mother of three young children, who just could not afford another child. I was absolutely shocked. It was the first time I had come across abortion. I was in my early twenties, working at St Bartholomew's Hospital doing research, and I mentioned it to a group of doctors one lunch time. They looked at me in amazement, and said words to the effect: 'Well, where have you been all your life? Stay behind on Friday.' I discovered that Bart's and all the other London hospitals put wards aside every Friday and Saturday night for women who were brought in as a result of backstreet abortions – Friday being pay day. Bleeding, septic, sometimes dying. This was accepted everywhere.

Diane Munday, Women's rights campaigner and former general secretary and vice-chair of the Abortion Law Reform Association in British Pregnancy Advisory Service, Pioneers of Change: Interviews with People who made the Abortion Act 1967 possible
The Abortion Act 1967 transformed a procedure performed clandestinely and at huge physical risk to women, into one that would be lawful when performed by the medical profession. The 1967 Act provides for abortion if two registered medical practitioners are of the opinion formed in good faith that to continue the pregnancy would 'endanger the physical or mental health of the pregnant woman or any existing children of her family', or that there is a substantial risk that if the child were born it would 'suffer from such physical or mental abnormalities as to be seriously handicapped'.
The 1967 Act constituted a significant step forward for women's rights in providing a secure legislative footing explicitly for abortion.
A range of professional bodies and critical figures were crucial in bringing this legislation into being including the members of the Abortion Law Reform Association (ALRA), parliamentary sponsors, most notably David Steel MP, and key alliances formed between Steel, ALRA and major doctors' associations, such as the British Medical Association (BMA) and Royal College of Obstetrics and Gynaecology (RCOG).
The Abortion Act 1967 remains a deeply contested and politicised landmark, but one without which our biographies as women would look very different indeed. While there are problems in its current operation – not least the fact that it does not apply in Northern Ireland –  it remains the case that the 1967 Act is to be valued for there is much to be lost without it – our bodies, our lives, our biographies.

Nicky Priaulx and Natalie Jones
The full version of this landmark is written by Nicky Priaulx and Natalie Jones.
Learn More
BBC News, 'Weekend Woman's Hour: Lola Olufemi, Anne Marie Duff, and David Steel on the 1967 Abortion Act' http://www.bbc.co.uk/programmes/b09bx9fq
Diane Munday, Women's rights campaigner and former general secretary and vice-chair of the Abortion Law Reform Association, in British Pregnancy Advisory Service, Pioneers of Change: Interviews with People who made the Abortion Act 1967 possible (BPAS, 2007) http://www.abortionreview.org/images/uploads/Abortion_Pioneers_(1).pdf
The Independent, 'Obituary: Helen Brook' http://www.independent.co.uk/news/obituaries/obituary-helen-brook-1234802.html