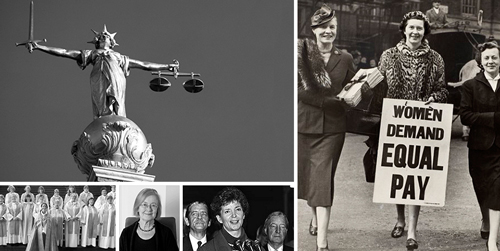 Claire Palley's appointment demonstrated that it was possible for a woman not only to succeed in academia, but at the same time to be a mother and to play a leading role in public life as a political activist, concerned with the effects of her research on the society in which she lived. In that regard, she was far ahead of her time

Fiona Cownie
In 1970, Claire Palley became the first woman to become a Professor of Law in any university in the United Kingdom, when she was appointed to a Chair in Public Law at Queen's University Belfast. Her academic career had begun in South Africa and subsequently continued in Southern Rhodesia, but as strong opponents of apartheid and white minority rule, the political views held by Claire Palley and her husband led to social ostracisation, which also affected the lives of their children. For that reason the Palleys decided to educate their sons in the UK necessitating a move for both the children and their mother. Claire Palley took up a lectureship at Queen's University Belfast in 1966, and was promoted to Reader the following year before taking up a Chair in 1970.
The full version of this landmark is written by Fiona Cownie.
Learn More
Fiona Cownie, 'The United Kingdom's First Woman Law Professor: An Archerian Analysis' (Journal of Law and Society, March 2015) http://onlinelibrary.wiley.com/doi/10.1111/j.1467-6478.2015.00701.x/epdf
National Portrait Gallery, 'Claire Dorothea Taylor Palley' http://www.npg.org.uk/collections/search/person/mp67145/claire-dorothea-taylor-palley
St Anne's College, 'Principals: Claire Palley' http://www.st-annes.ox.ac.uk/about/history/principals/claire-palley-1984-91