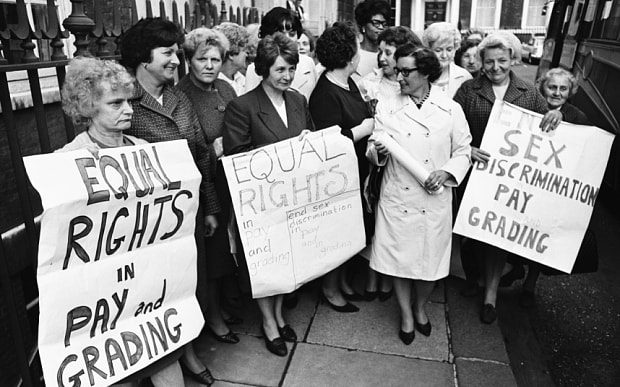 As well as improving the women's immediate circumstances, the strike acted as a catalyst for wider, positive change; especially for women working in industry. Demands for equal pay had been voiced many years before … [but] this highly-publicised action by the Ford sewing-machinists meant that the issue of equal pay was brought with some sense of urgency to the attention of government, prompting Parliament to legislate

Dawn Watkins
The Dagenham Car Plant Strike involved 187 women who were employed as sewing machinists by the Ford Motor Company in Dagenham, Essex. Ford had carried out an extensive review of its wages structure, under which both male and female job roles were allocated a grade. The women argued that the Grade B that had been allocated to their role failed to take into account the level skill involved in their work, and that they should be allocated Grade C, which was more in line with the grade allocated to men for work involving similar levels of skill.
Because they voiced their complaints only after the new structure had been formally agreed between Ford and their Union representatives, the women were required to follow a formal grievance procedure in order to seek redress. Sensing that this would be futile, the women took strike action. The strike lasted for three weeks and it resulted in the closure of the entire plant until a settlement was reached.
The women achieved a pay rise and although this was not yet equal to the pay assigned to male workers, the strike is widely considered to represent an important step towards the introduction of the Equal Pay Act 1970 – a statute designed 'to prevent discrimination, as regards terms and conditions of employment, between men and women.'
The strike has since been dramatised in the film Made in Dagenham in 2010 and Made in Dagenham the Musical in 2014.
The full version of this landmark is written by Dawn Watkins.
Learn More
BBC News, 'Did the Dagenham Women's Equal Pay Fight Make a Difference?' http://www.bbc.co.uk/news/magazine-11420445
The Guardian News and Media Ltd., 'Obituary: Baroness Castle of Blackburn' https://www.theguardian.com/news/2002/may/04/guardianobituaries.obituaries
The Independent, 'The Timeline: Women's Pay' http://www.independent.co.uk/news/uk/this-britain/the-timeline-womens-pay-2057167.html
Sisterhood and After Research Team, 'Sisterhood and After: Pay and Equality Legislation' (British Library, 8 March 2013) https://www.bl.uk/sisterhood/articles/equal-pay-and-equality-legislation