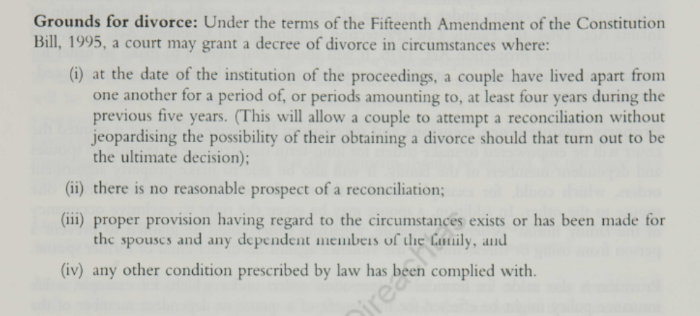 The Fifteenth Amendment of the Constitution Act 1995 removed the ban on divorce from the Irish Constitution. It was the second attempt at removing the ban; the first in 1986, ended with a substantive victory for the no-divorce campaigners.
By the 1980s, most other Western countries had not only introduced divorce, but had altered divorce laws to include no-fault based divorce and provided for equality in the distribution of property following divorce. Ireland therefore stood apart. When the first referendum to remove the ban was proposed, it followed many years of vigorous campaigning on women's rights in other Western countries and in Ireland, various women's organisations had been established including the Council for the Status of Women (an umbrella organisation for women's groups. Now called the National Women's Council of Ireland). One would imagine therefore that women would have argued forcefully in favour of divorce in Ireland. However, this was not the case. In fact, the majority of women voted against removing the ban in 1986.
The successful divorce referendum is often pointed to as one of the major turning points in modern Irish society. Around this time, Ireland began to shed many of its traditional, conservative societal notions. Attitudes towards women were also slowly changing… The divorce campaign was one part of this change and it followed earlier turning points such as the election of Mary Robinson as President and the Supreme Court decision in 'the X case', which allowed a 14 year old rape victim to travel abroad for an abortion.

Laura Cahillane
By the time of the second proposal in 1995, societal attitudes towards women were changing and while the proposal passed only by the narrowest of margins in the end, the victory demonstrates, in a microcosmic sense, that the position and status of women in modern Ireland had changed forever.
The full version of this landmark is written by Laura Cahillane.
Learn More
A.J. Christopher, 'This Changing World: The Irish Divorce Referndum of 1995' (1997) 82 Geographical Association http://www.jstor.org/stable/40572868
The Irish Times, ' 'Hello Divorce, Goodbye Daddy': 20 Years After the Irish said Yes' https://www.irishtimes.com/news/social-affairs/hello-divorce-goodbye-daddy-20-years-after-irish-said-yes-1.2441128
Mairead Enright, 'On This Day: First for Irish Divorce' (Human Rights in Ireland, 17 January 2010) http://humanrights.ie/constitution-of-ireland/on-this-day-first-for-irish-divorce/
The New York Times, 'Irish Vote to End the Divorce Ban By a Tiny Margin' http://www.nytimes.com/1995/11/26/world/irish-vote-to-end-the-divorce-ban-by-a-tiny-margin.html
RTÉ Archives, 'No Recognition for Overseas Divorce in Ireland 1985' http://www.rte.ie/archives/2015/0929/731073-divorce-in-ireland/
RTÉ Archives, 'Hello Divorce, Goodbye De Valera 1995' http://www.rte.ie/archives/2015/1123/748645-divorce-referendum/