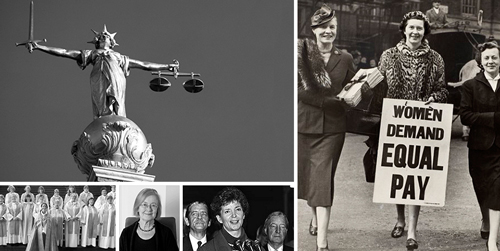 In 1918 women over the age of 30 were able to vote following the enactment of the Representation of the People Act 1918. In the same year, the Parliament (Qualification of Women) Act 1918 permitted women to be elected to the House of Commons. A year later, the Sex Disqualification (Removal) Act 1919 allowed women to become senior civil servants, magistrates and judges, although none of these statutes extended to membership of the House of Lords. These significant changes to the position of women in public life had not gone unnoticed.
In 1918, Margaret Haig Thomas, Viscountess Rhondda (1883-1958) – the only child of Viscount Rhondda a member of the House of Lords's member and Liberal politician – announced her intention to claim 'the right to have, hold, and possess a seat, place, and voice' in the House of Lords. The House of Lords Committee for Privileges initially ruled in her favour, however the Lord Chancellor, Lord Birkenhead and other Peers objected. The case was referred back to the Committee, which voted against Viscountess Rhondda's petition holding that women would only be admitted to the Lords when law would specifically allow their entrance.
The Life Peerages Act 1958 was such an Act. For the first time life peerages could be granted in the House of Lords to both men and women for other than judicial purposes. Lady Rhondda lived to see the passing of the Act, but died before she could see the first women take their seats.
The full version of this landmark is written by Supuni Perera.
Learn More
BBC News, '1957: Lords to Admit First Women Peers' http://news.bbc.co.uk/onthisday/hi/dates/stories/october/30/newsid_3116000/3116144.stm
BBC News, 'Suffragette Viscountess Rhondda's Newport Bomb Attack Remembered' http://www.bbc.com/news/uk-wales-22740340
Glenn Dymond, 'The Life Peerages Act 1958' (House of Lords Library Note) https://researchbriefings.parliament.uk/ResearchBriefing/Summary/LLN-2008-011#fullreport
Parliament, 'Life Peerages Act 1958' (Living Heritage: The Parliament Act And the Role of the Lords) http://www.parliament.uk/about/living-heritage/evolutionofparliament/houseoflords/parliamentacts/overview/lifepeeragesact/
Parliament, 'Peerage Act 1963' (Living Heritage: House of Lords Reform) http://www.parliament.uk/about/living-heritage/evolutionofparliament/houseoflords/house-of-lords-reform/from-the-collections/from-the-parliamentary-collections-lords-reform/lords-reform-1963-1999/peerage-act-1963/
Parliament, 'Campaigning for Women in the Lords' (Living Heritage: House of Lords Reform) http://www.parliament.uk/about/living-heritage/evolutionofparliament/houseoflords/house-of-lords-reform/from-the-collections/from-the-parliamentary-collections-lords-reform/campaigning-for-women-in-the-lords/