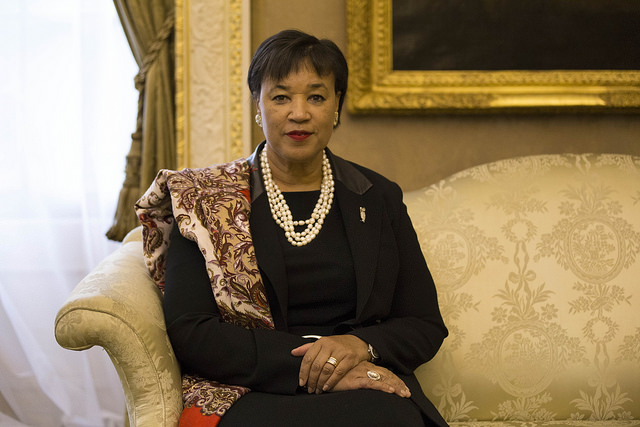 In June 2007, Patricia Scotland (1955- ) became the first woman – and to date only woman – to take up the position of Attorney General for England, Wales and Northern Ireland since its foundation in 1315. She was also the first black woman, and indeed the first black person – and only black person – to be elevated to the post. She was in office from June 2007 until May 2010 when the Labour party lost the general election, after which she became the shadow Attorney General until 2011. On her appointment, members of the press described her as the most prominent black woman in government and as a leading voice on racial, feminist and equality issues.
However, this was not her only 'first'.
In 1991, she became the youngest and first black woman to ever become Queen's Counsel. She was also the first black woman to be appointed Deputy High Court Judge, Recorder and Master of Middle Temple. In 2001, she became the first black woman ever to be appointed as a minister in a UK government when she was appointed Parliamentary Secretary for the Lord Chancellor's Department.
The full version of this landmark is written by Linda Mulcahy.
Learn More
Chuka Umunna, 'The Duty to Inspire' (New Statesman Media, 30 August 2007) http://www.newstatesman.com/society/2007/08/real-power-black-britain
Dan Newling, 'The Future QC Born Into A Family of 14' (17 September 2009) http://www.pressreader.com/uk/daily-mail/20090917/282767762643518
Patricia Scotland QC, 'Who I Am' https://www.patriciascotland.com/whoiam
Patricia Scotland QC, 'News' https://www.patriciascotland.com/news