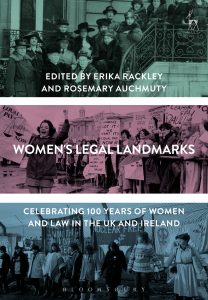 The landmarks will be included in the Women's Legal Landmarks: Celebrating 100 Years of Women and Law in the UK and Ireland collection, edited by Erika Rackley and Rosemary Auchmuty and due to be published by Hart Publishing in June 2018.
About the book
2019 marks the centenary of women's admission into the legal profession in the UK and Ireland. Coming only a year after the Representation of the People Act 1918 gave (some) women the parliamentary vote, the Sex Disqualification (Removal) Act 1919 encouraged feminists and others to look forward to a new era in which women's voices would be heard in law, women's concerns addressed, and women's injustices and inequalities righted. The centenary in 2019 offers an opportunity to mark and assess women's progress toward these hopes.
Despite the upcoming centenaries, academic work on women's legal history in the UK and Ireland is relatively scare, while other writings are often anecdotal, uncritical or written from a 'top-down' perspective. This volume seeks to set the record straight with engaging and accurate accounts written by over 80 experts in their fields. The landmarks cover a range of topics, including the right to vote, sex discrimination, forced marriage, prostitution, rape, twitter abuse and the ordination of women bishops as well as the life stories of a number of women who were the first to undertake key legal roles and positions. Together, they demonstrate women's agency and activism in the achievement of law reform and justice.
As the first scholarly anthology of its kind, Women's Legal Landmarks we hope that it make a significant contribution – and be key reference source – to the academic literature in feminist legal history in and beyond the UK and Ireland.
Available to buy from all good booksellers in June 2018.